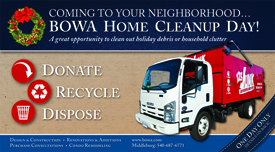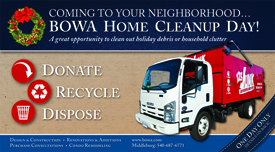 As a thank you to our neighbors in Middleburg, BOWA will be holding a Holiday Home Cleanup Day on Tuesday, January 7th at our office on E Washington Street.  Let us help you fulfill your New Year's resolution for a tidy, organized home as we assist in the disposal of your holiday debris and unwanted clutter! 
We are pleased to be partnering with 123Junk who will be on hand to collect items for donation, recycling and disposal.  You can read more about 123Junk's charity partners as well as acceptable items by clicking on the logo below.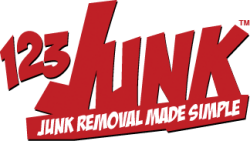 Date:  Tuesday, January 7th
Time:  8:00 am – 12:00 pm
Where:  BOWA Office, 201 E Washington Street, Middleburg VA
What:  Wrappings, trees, boxes and junk for disposal, as well as gently used home furnishings, toys, clothing and appliances to donate.  Electronics will be accepted for recycling.  Please, no paint or hazardous materials.
For more information:  call Tim Burch at 540-687-6771