learn about our


PEACE OF MIND PROMISES

What if we could promise you a remarkable remodeling experience? One where you could count on your remodeler to go above and beyond while standing behind their work, deliver your project on time and on budget, and actually leave your neighbors singing their praises. Believe it or not, it is possible. BOWA's Peace of Mind Promises are all designed to address common remodeling concerns allowing you to move forward with confidence. If you have any doubts, we'd be happy to connect you with some of our clients who have experienced the benefits first hand.
FANATICAL CUSTOMER SERVICE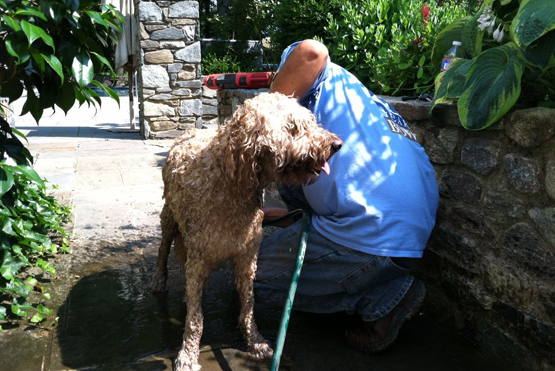 Every member of the BOWA team is deeply committed to delivering heroic customer service at every interaction, and we have numerous rave reviews from clients highlighting ways in which the team – everyone from our design consultants, to our project managers, to our accounting staff – has gone above and beyond. We're even known for helping the family pet get out of a "muddy situation" from time to time!
While this commitment is seen throughout the entire company, it is specifically embodied in our team of Customer Service professionals. As your project winds down, you're introduced to one of our dedicated Customer Service Managers, who remains with you from project close through a lifetime of enjoyment. Exclusively for BOWA clients, the team is available for emergency calls whenever the need arises, or to assist with warranty items or future small projects. A great benefit many clients rave about!
We hear countless tales of how appreciated this level of service is, but unfortunately it's an investment in client satisfaction not often found in our industry.
NO PRICING SURPRISES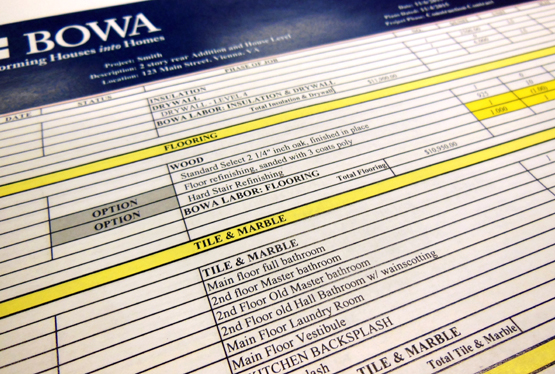 We hate to hear of other companies' projects going bad because production costs unknowingly exceeded the homeowners' budgets. The good news is BOWA offers a solution. With our "No Pricing Surprises" policy, our team does all we can to ensure projects never exceed clients' budget expectations without their full knowledge and approval. We do so in a few ways:
Guaranteed Budget Ranges: When a homeowner comes to us for a design build project with a relatively defined scope of work, we're able to provide a Guaranteed Budget Range even before they sign a contract to begin architectural plans. If the final design exceeds the range without a scope change, the homeowner can choose to walk away with their deposit refunded. It's that simple!
Detailed Budgets: During the design process, we're developing detailed project budgets to ensure the estimates we provide to you are accurate. As selections are made we update the numbers and we competitively bid projects and pass our volume discounts on to you directly.  You'll see how various selections and options affect your budget, and you can make informed decisions about how your dollars are allocated. There's no mystery, and that's exactly how it should be!
Fixed-Price Contracts: When the project is fully designed and selected prior to commencement, we're able to fix the price for the contract. This means the homeowner's cost is locked in unless work is intentionally added, removed or changed. Talk about peace of mind!
Change Authorization Pre-Approval: Sometimes, during the course of a project, clients choose to make a change that involves additional costs. Perhaps it's an extra "while you're here" project or an appliance upgrade. Whatever the change, we will always present the client with a written statement of how both the budget and schedule will be impacted. Only after the client approves, will this work begin.
By being upfront about budget conversations, giving clients visibility into where dollars are spent, and standing committed to "No Pricing Surprises", BOWA eliminates this common remodeling concern.
SCHEDULE GUARANTEE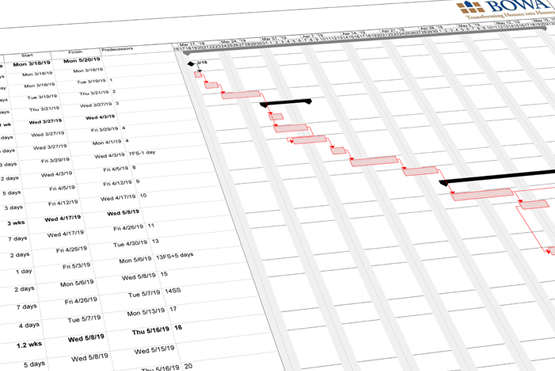 Concerned that your remodel may drag on without a defined finish date? Not with BOWA. Every project has a written production schedule with a defined substantial completion date before construction begins.
FULL-TIME SUPERVISION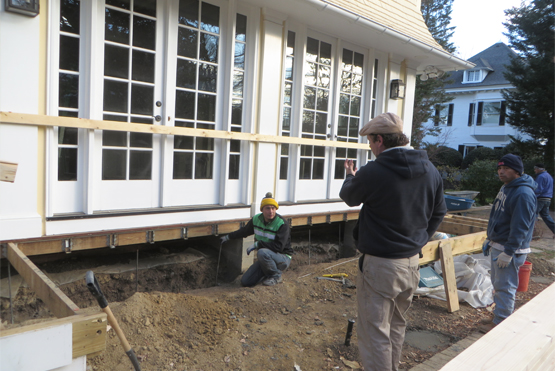 Do you have any idea how many players and moving parts are involved in executing a luxury renovation? Our clients know there are dozens and maybe even 100+ people in and out during the course of a project. BOWA's on-site project supervisors are tasked with orchestrating the entire process, ensuring that the project is delivered on time, on budget and according to our high standards of excellence.
For mid-sized projects, the supervisor is also performing with "tools on," but for larger or more complex jobs the logistics alone is a full-time function.
Our clients sing the praises of their Project Managers, raving about how critical their role was in the success of their projects and their enjoyment of the process.
GOOD NEIGHBOR PROGRAMS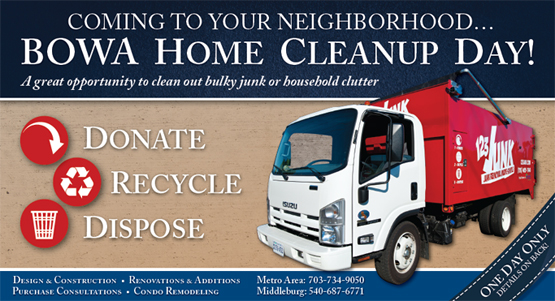 We all know remodeling can be an inconvenience for the neighbors, but what many builders forget is those are your neighbors long after the project is complete. At BOWA we have a number of programs in place designed to proactively manage neighbor communications, avoid the usual hassles and thank them for their patience throughout the project.
From hand-delivered emergency contact cards for all the immediate neighbors to Home Cleanup Days to auto detail gift certificates sent at the end of the project, we try our best to be a polite guest in your neighborhood. It works too! Neighbors call thanking us for being considerate and clients are amazed when their neighbors praise one of our programs. A win-win-win for all!