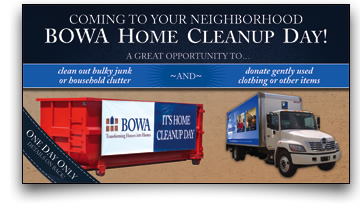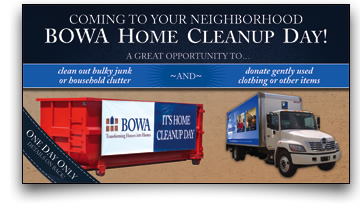 As a thank you to the neighbors in the communities where we work, BOWA will host our inaugural Home Cleanup Day on September 29, 2012 in McLean, VA.
Home Cleanup day is a great opportunity to donate and recycle gently used household items, toys and clothing, and get rid of any unwanted clutter.  A truck and staff member from Goodwill of Greater Washington will be on hand to accept donations and provide receipts.  Additionally, BOWA staff members will be available to help folks dispose of any broken and damaged items.
When:  Saturday, September 29, 2012 from 8:00 am – 10:00 am
Where:  1109 Old Cedar Road, McLean, VA 22102
For more information:  Call George Hodges-Fulton at 703-873-8002
More BOWA Home Cleanup Days are in the works and coming to a neighborhood near you!