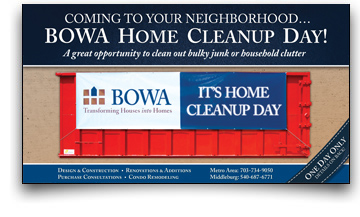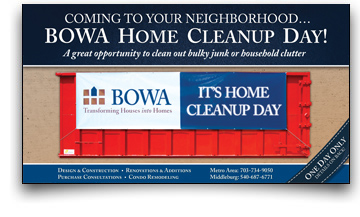 As a thank you to the community in which we are currently working, BOWA will be holding a Home Cleanup Day in Cleveland Park on Friday, August 5th.  Let the BOWA Team assist in disposing of your unwanted clutter!
On Home Cleanup Day, please ask for the BOWA employee on site and we will be happy to help you unload your items.
Date:  Friday, August 5, 2016
Time:  8:00 am – 10:00 am
Where:  3462 Macomb Street, NW, Washington, DC 20016
What:  Broken & oversized items, junk, etc., but no electronics, paint or hazardous materials will be accepted
For more information call Adam Wertheimer at 703-873-8008.