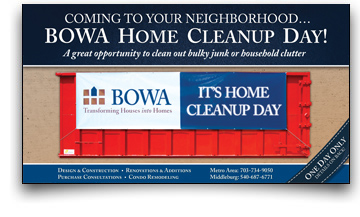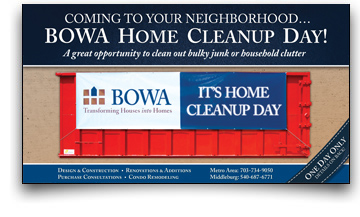 As a thank you for your patience during our renovation work in your area, I would like to invite you to take advantage of BOWA's upcoming Home Cleanup Day.  Let us assist in disposing of your unwanted clutter!
On Home Cleanup Day, please ask for the BOWA employee on site and we will be happy to help you unload your items.
Date:  Thursday, September 12, 2013
Time:  8:30 am – 11:00 am
Where:  7813 Birnam Wood Drive, McLean, VA 22102
What:  Broken & oversized items, junk, etc., but no electronics, paint or hazardous materials
For more information:  Call George Hodges-Fulton at 703-873-8002.