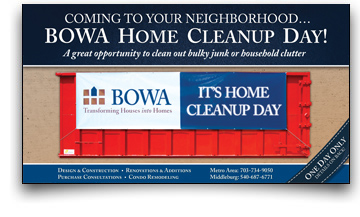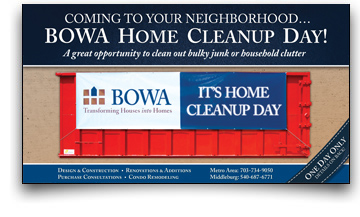 As a thank you to the community in which we are currently working, BOWA will be holding a Home Cleanup Day in McLean on Wednesday, August 6th.  If you are enjoying a "stay-cation" this summer, it is the perfect time to clean out the garage or basement.  Let BOWA assist you with the disposal of your unwanted clutter!
On Home Cleanup Day, please ask for the BOWA employee on site and we will be happy to help you unload your items.
Date:  Wednesday, August 6, 2014
Time:  8:30 am – 10:30 am
Where:  7793 Solitude Court, McLean, VA 22102
What:  Broken & oversized items, junk, etc. No electronics, paint or hazardarous materials will be accepted.
For more information call George Hodges-Fulton at 703-873-8002.