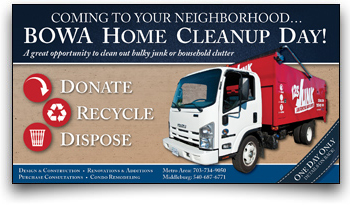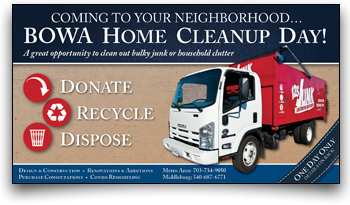 Please join us for our upcoming McLean Home Cleanup Day on Saturday, October 1st, co-sponsored by BOWA and your neighbor, Tania Hosmer of Keller Williams.  It's our way of saying thank you to the community in which we live and work.  Let us help you get a head start on your back-to-school cleaning and assist in disposing of your unwanted clutter!
We are pleased to be partnering once again with 123Junk who will be on hand to collect items for donation, recycling and disposal.  You can read more about 123Junk's charity partners as well as acceptable items by clicking on the logo below.  Additionally, Tania will be collecting paint and other household chemicals for safe transport to the county transfer station.
Date:  Saturday, October 1, 2016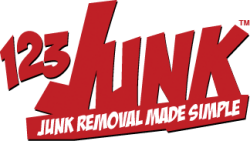 Time:  9:00 to 11:00 am
Where:  7809 Grovemont Drive, McLean, VA 22102
What:  Broken & oversized items and junk for disposal, and gently used home furnishings, toys, clothing and appliances to donate.  Electronics will be accepted for recycling.  Paint and other hazardous materials will be accepted.
For more information:  Call George Hodges-Fulton at 703-873-8002 or Tania Hosmer at 703-403-8225.