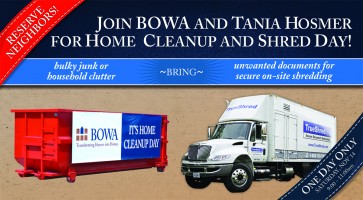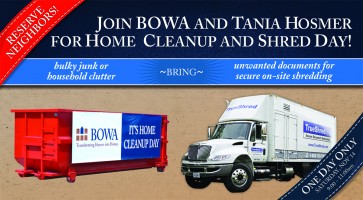 Please join us for our upcoming McLean Home Cleanup Day on Saturday, November 14th, co-sponsored by BOWA and your neighbor, Tania Hosmer.  It's our way of saying thank you to the community and a great opportunity for you to dispose of personal documents and unwanted clutter. 
Hosted at Tania's home, we will have secure, on-site document shredding by TrueShred and a dumpster for junk.  We will be happy to help you unload your items.
Date:  Saturday, November 14, 2015
Time:  9:00 am – 11:00 am
Where:  7809 Grovemont Drive, McLean, VA 22102
What: Confidential documents to be destroyed.  Broken and oversized junk items for disposal. No electronics, paint or hazardous materials will be accepted.
For more information call George Hodges-Fulton at 703-873-8002 or Tania Hosmer at 703-403-8225.