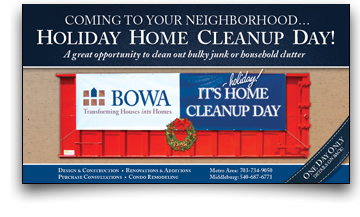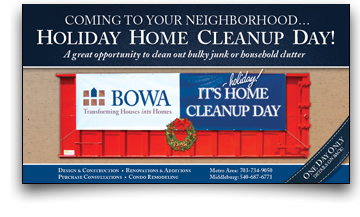 As a thank you to the communities in which we have worked, I would like to invite you to take advantage of BOWA's upcoming Great Falls Home Cleanup Day. Start a fresh new year by letting us assist in disposing of your post-holiday debris and unwanted clutter!
On Home Cleanup Day, please ask for the BOWA employee on site and we will be happy to help you unload your items.
Date:  Saturday, January 3, 2015
Time:  9:00 am – 11:00 am
Where:  9902 Deerfield Pond Drive, Great Falls, VA 22066
What:  Dispose of wrappings, trees, boxes and other debris – No electronics, paint or hazardous materials will be accepted.
For more information call George Hodges-Fulton at 703-873-8002.