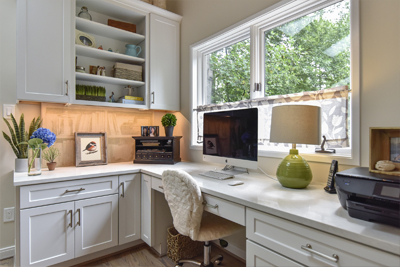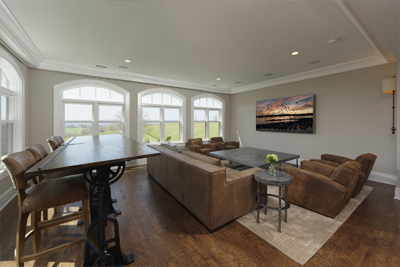 A fire in the fireplace, snow falling outside, and a warm beverage to keep you extra toasty. The bitter cold of winter has certainly arrived leaving many folks retreating indoors. From large-scale to do it yourself, here are a few ideas to keep your time inside entertaining and productive.
Binge-Watch in Style
Curl up with your family for movie night or binge-watch a new show. Perhaps a high-tech media room, complete with theater seating and a popcorn maker, is on your wish list. While hardcore movie buffs might still insist on traditional, dedicated theaters, many families are opting for media rooms with open floor plans and varied seating that can be used in a multitude of ways. This modern format still delivers a high-quality movie watching experience.  But thanks to the flexible, interactive atmosphere, it works equally well when hosting the BIG GAME or throwing a neighborhood talent show. If you're maxed out on space or don't need all the bells and whistles, a projector, blank wall and comfy bean bags may be all your family needs for the perfect viewing party on a chilly night!
Indulge in Creativity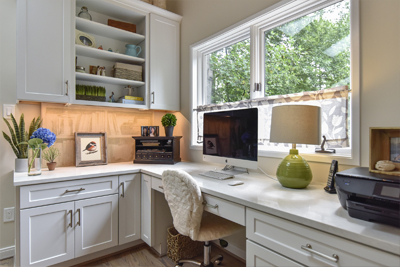 Is one of your New Year's resolutions less screen time? If so spend your free time reading in your most comfortable chair or choose a space to create something new every day. Clean off that catch-all desk in your home office and use it to write, craft, organize, or whatever makes you feel at ease. If your space is maxed out, perhaps it's time to consider adding or reconfiguring to create a space of your own. We've built "mancaves" in the form of car barns and "she-shed" art studios with every comfort imaginable. Your creative space is achievable with a little imagination.
Clear the Clutter
Have you seen the new Netflix series about tidying-up? It's all the craze right now. Watching someone on television clean houses isn't going to get your own home organized, but it may just inspire you to get the ball rolling. With crazy wind chills and icy slush, the winter months are perfect for scheduling cleanups one room at a time. Instead of just packing away the holiday décor, take some extra time to sort through and label untouched boxes in your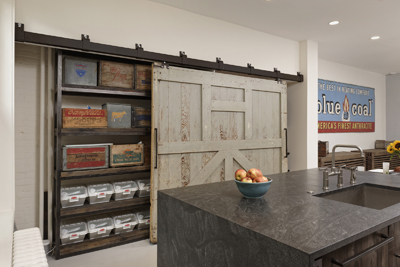 storage area. Or plan time to clean out your closet donating items you never wear and tossing the shoes with the flapping sole. Then, tackle your kitchen and pantry. Most of us use our kitchens, one way or another, every day. You're bound to enjoy your space more if you can find everything you need without knocking over plasticware and spices to get there.
However, if you need a little extra help, our kitchen design specialists can help. They have lots of great solutions and tools, like feature-packed drawers, pegboards, and innovations for tricky corner cabinets, to deliver the organized kitchen of your dreams.
Don't resist the urge to hibernate this winter, instead view the time as an opportunity to create quality moments, release your imagination or begin the new year with a clean slate. This winter, celebrate the comforts of your home!