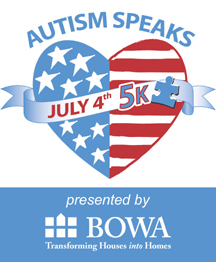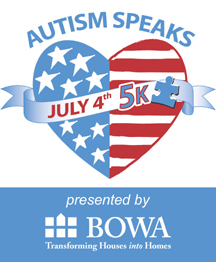 With one week to go, I am running full speed ahead as Sponsorship Chair for the Autism Speaks July 4th 5K Run – 1 Mile Walk, presented by BOWA.  This year marks the 13th Anniversary of the Autism Speaks 5K, and BOWA's 10th year as a key sponsor.  Thanks to the ongoing support of all the generous sponsors, donors and participants, the race has contributed over $2.5 million to Autism Speaks.
This community oriented event is for both competitive runners and families with children of all ages, and is a wonderful start to Independence Day.
Consider joining the Richie's Racers team, in support of my son Richard.  Richie's Racers will be running in at least three different locations on Thursday, July 4th!
Autism Speaks 5K Run – 1 Mile Walk in Potomac, MD
Time:  7:30 a.m.  pre-race warm-up followed by an 8:00 a.m. start
Location:  Potomac Library, 10101 Glenolden Drive, Potomac, MD
Richie's Racers Team Dewey – coordinated by my colleague Larry Weinberg and me
Time:  8:30 a.m. start
Location:  Seagate, 1 Chicago Street , Dewey Beach, Delaware

Richie's Racers Team Middleburg –

coordinated by my colleague and BOWA project leader, Tim Burch
Time:  8:30 a.m. start
Location:  Warrenton Greenway Caboose, Railroad and Madison Streets, Warrenton, VA
To sign up or donate, join Richie's Racers. Once on the team page, please follow the JOIN OUR TEAM link to sign up for the Virtual 5K or GENERAL TEAM DONATIONS link to make a contribution.
For more information about Autism Speaks, please contact Steve Kirstein at [email protected], or Susan Pereles at [email protected].
Steve Kirstein
Principal, BOWA