contact us


Metro D.C. Office – McLean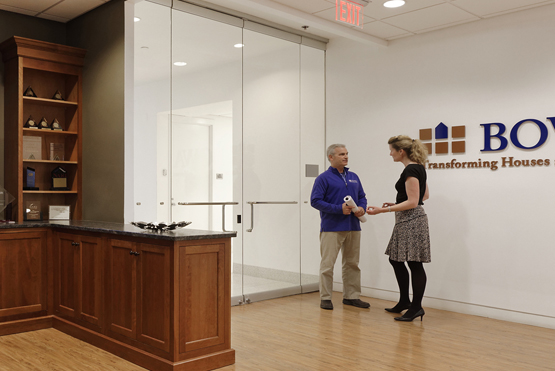 7900 Westpark Dr
#A180
McLean, VA 22102
Phone #: 703-734-9050
BOWA's McLean office is located on the first floor of the Atrium building, nearest to the North Atrium Entrance and the back surface parking lot. We are one level up from the ground-level conference center and convenience store.
Parking Options and Navigation to BOWA's Office:  (see map below)
BOWA Guest Reserved Spaces – Enter via the Main Visitor Parking Entrance, then proceed through the gate. Make a right around the back of the building, continue straight, and then make another right into the surface parking lot. Please park in the spots marked "BOWA Reserved", shown in the image below. Walk up the stairs on the side of the building nearest the parking lot and enter through the North Atrium Entrance. BOWA's office will be on your right once you pass the first set of elevators. (if the reserved spaces are taken, please proceed to Covered Parking). There is a fee for parking in this lot.
2-Hour Free Parking – Surface Lot – Available in the small Tower Parking Lot at the front of the building. Access via the Visitor Parking Entrance on Westpark Drive. Enter the building through the Tower Entrance, it says '7900' above the door, and BOWA's office will be straight ahead at the end of the hallway.
2-Hour Free Parking – Covered Garage – Covered parking is available for all guests and can be accessed from either Westpark Drive or Jones Branch Drive. The first two hours are free. The three-hour rate is $10.00, and the maximum daily parking fee is $12.00. Proceed to the first floor of the building, and BOWA is located in the corner near the North Atrium Entrance and the green seating area.
NOTE – Oversized vehicles must park in the surface lot near the North Atrium Entrance or the Tower Entrance.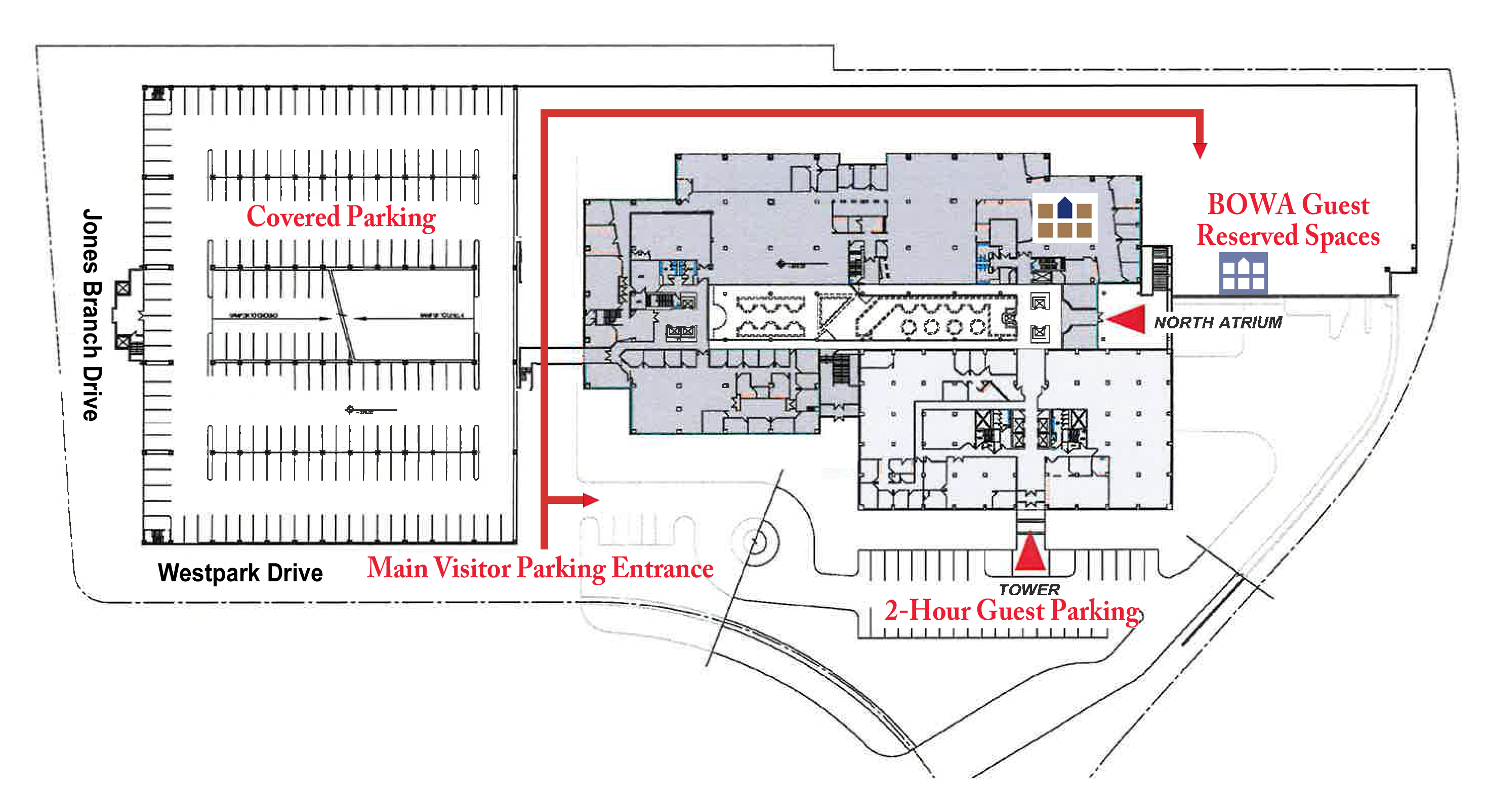 Directions
From North or South on Interstate 495
Take Exit 46A VA-123 South/Chain Bridge Road toward Tysons Corner/Vienna (0.4 mi)
Turn right onto Tysons Boulevard (0.1 mi)
Turn right onto Galleria Drive (0.1 mi), which becomes Westpark Drive
Turn right onto 7900 Westpark Drive – follow signs for visitor parking or deliveries
From the West (Dulles/Reston)
Take VA-267 East (Dulles Toll/Access Road)
Take Exit 18 onto I-495 South/Capital Beltway toward Richmond/Alexandria
Take Exit 46A VA-123 South/Chain Bridge Road toward Tyson Corner/Vienna (0.4 mi)
Turn right onto Tysons Boulevard (0.1 mi)
Turn right onto Galleria Drive (0.1 mi), which becomes Westpark Drive
Turn right onto 7900 Westpark Drive – follow signs for visitor parking or deliveries
From the East (Washington, D.C./Arlington)
Take I-66 West toward Front Royal/Dulles Airport
Take Exit 67 and merge onto VA-267 West
Take Exit 19A VA-123 South
Turn right onto Tysons Boulevard (1.3 mi)
Turn right onto Galleria Drive (0.1 mi), which becomes Westpark Drive
Turn right into 7900 Westpark Drive – follow signs for visitor parking or deliveries