Featured In: Remodeling, November 2018
Excerpt: "Like many East Coast row homes, this 1885 townhouse has a long, narrow plan with windows only at the front and the back. This leaves a gloomy middle area on each floor level that wasn't working for the young couple who purchased the townhouse in the historic Dupont Circle neighborhood of Old D.C. Contracting with BOWA, they asked for the traditional row house to be transformed into a light-filled, open-area home with a thoroughly modern aesthetic.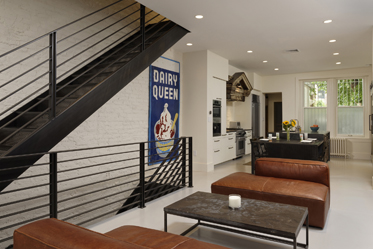 The BOWA Solution
Contracted for a whole-house renovation, the BOWA team began with a redesign of the creaky wooden stairs. A steel staircase fit with the owners' industrial aesthetic. Structural changes were needed in the building to accommodate the steelwork, but the design afforded perforated steel treads, which let light pass through from the skylight above (and increased air flow).
The floor plan was opened up by removing the wall between the kitchen and the living room. On each level, the team poured concrete flooring, which fit the industrial aesthetic, particularly when matched with steel furniture. Further touches to bring out the industrial look and feel included installing the owners' beloved vintage doors and exposing the brick party walls. By painting the brick white, it not only added uniformity to the wall and brightened the space, but also improved the air-sealing requirements to meet energy code. In addition, this rough-textured feature created the perfect canvas for the owners' colorful, vintage commercial signs."
For More Information: