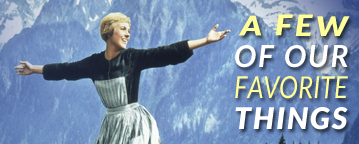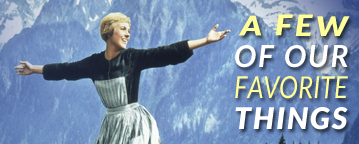 We're all familiar with the classic film, The Sound of Music and this line from the famous song, "When the dog bites, When the bee stings, When I'm feeling sad, I simply remember my favorite things, And then I don't feel so bad…"  (You might even get a chuckle from this parody of the song!)
Since we're all in this together, we thought it would be fun to share a few of our favorite things to bring a smile to your face and help you pass the time!

Our inaugural list includes some of the BOWA Team's favorite recipes that were included in the cookbook we put together a few years ago honor of BOWA's 30th anniversary – A Culinary Celebration.  Hope you find a few recipes to try out yourself! Bon Appétit!
STARTERS

SIDE DISHES
ENTREES
DESSERTS AND BREADS

COCKTAILS
If you find any recipes you love, let us know!
Stay Tuned for Our Upcoming Topics!
Our Favorite Movies
Our Favorite Series to Stream
Our Favorite Books
Our Favorite Games
Our Favorite Sports/Activities
Home Projects I've Been Working On
Dream Destination Once We Can Travel Again
Restaurants We Can't Wait to Visit Again
New Hobbies/Skills I've Developed While Home