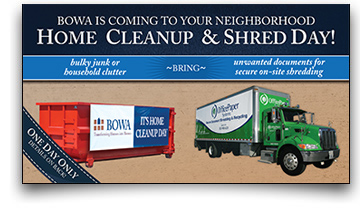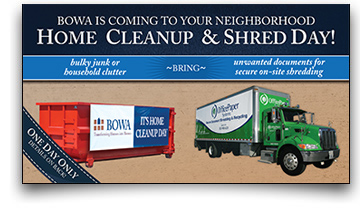 As a thank you to the communities in which we work, BOWA will be holding a Home Cleanup & Shred day on Wednesday, September 18th, 2013.
Home Cleanup & Shred Day is a great opportunity to dispose of confidential documents and clear out unwanted clutter.  A BOWA team member will help unload bulky items, and secure on-site shredding will be provided by Office Paper Systems.
What items can you bring? 
Office Paper Systems will accept paper documents from your office or home. BOWA will collect broken and oversized junk items for disposal, but please exclude electronics, paint or hazardous materials.
We look forward to seeing you at our Bethesda location:
Bethesda, Maryland
When:  Wednesday, September 18, 2013 from 9:00 am – 1:30 pm
Where:  7301 Arrowood Road, Bethesda, MD 20817
For more information, call Steve Kirstein at 703-873-9104 or Adam Wertheimer at 703-873-8008.